Salerno Miromar Lakes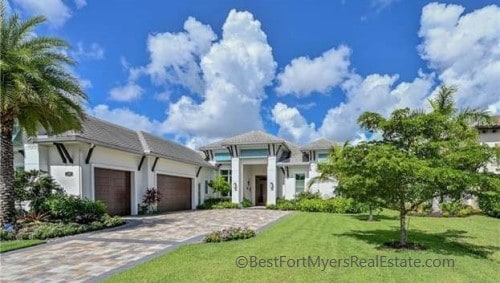 Salerno Miromar Lakes invites you to experience its exclusive and intimate ambiance. This extraordinary enclave houses 32 exquisite Estate Homes gracefully positioned on the renowned Peninsula at Miromar Lakes. With captivating water views, each residence boasts the option of a private dock for direct access to the sprawling 700-acre lake.

Luxury and sophistication take center stage at Salerno Miromar Lakes. Embrace the tranquility of waterfront living, greeted by stunning vistas each morning and mesmerizing sunsets over the shimmering waters each evening.

Beyond the opulent residences, Salerno Miromar Lakes offers the perfect harmony of seclusion and connection. Revel in utmost privacy within your elegant abode while embracing the warmth of a welcoming community.

Explore leisurely aquatic adventures with the option of a private dock, allowing you to immerse yourself in the vast freshwater lake right at your doorstep. The picturesque surroundings blend meticulously manicured landscapes with the serene azure waters, creating a haven of tranquility and sophistication.

Indulge in the captivating atmosphere of Salerno Miromar Lakes, where every day becomes a serene escape from the outside world. This exclusive sanctuary invites you to create cherished memories and celebrate life's finest moments amidst opulence and beauty.

Claim your place in the prestigious Salerno Miromar Lakes, where luxury, natural splendor, and leisure converge to create an unparalleled living experience. Welcome home to Salerno Miromar Lakes, where cherished memories await, and life unfolds in its most opulent form.
Find your Home in Salerno Now!

Sorry we are experiencing system issues. Please try again.

Homes for Sale All Miromar Lakes Neighborhoods