Portofino at Miromar Lakes Real Estate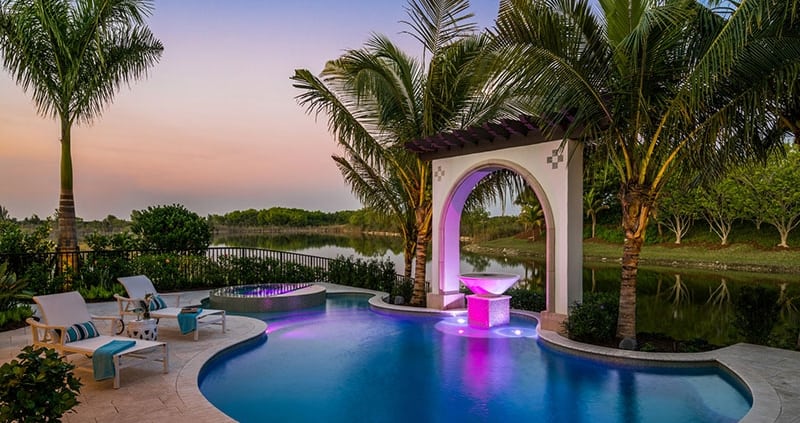 "Dare to Be" Sculpture
Welcome to the enchanting world of Portofino at Miromar Lakes. Here, luxury living meets natural beauty on the picturesque Peninsula. Immerse yourself in the elegance of Mediterranean-style villas, thoughtfully arranged along cobblestone streets and adorned with exquisite stonework, creating an irresistible Old World ambiance.
Indulge in the waterfront paradise that each of the 20 home sites offers, providing the perfect blend of tranquility and convenience. You'll also have the option for a private boat dock, perfect for aquatic adventures. Nestled within the prestigious confines of The Peninsula at Miromar Lakes Beach & Golf Club, Portofino is ideally situated just a short walk away from the vibrant Marina.
Discover an array of recreational amenities waiting to be explored. Take advantage of bocce courts for friendly competition, a scenic fitness trail for invigorating strolls, and a delightful gathering place with a cozy fire pit and shade pavilions, perfect for mingling with neighbors and friends.
As you wander through the meticulously designed parterre garden, a world of artistic wonder unfolds. It leads you to a captivating round-about adorned with the mesmerizing kinetic sculpture, "Dare to Be," a true testament to the community's dedication to art and culture.
If you dream of a lifestyle where luxury, comfort, and natural beauty intertwine harmoniously, look no further than Portofino at Miromar Lakes. Discover a collection of exquisite homes for sale. All offering a unique living experience that seamlessly blends the joys of waterfront living with the conveniences of a well-planned community. Come and experience the splendor of Portofino, a place you'll proudly call home.
A parterre garden leads to a round-about featuring the kinetic sculpture, "Dare to Be."
Portofino at Miromar Lakes Homes for Sale
Sorry we are experiencing system issues. Please try again.
Homes for Sale All Miromar Lakes Neighborhoods