History of Estero Florida Real Estate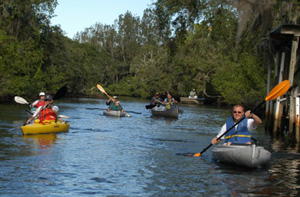 In the early pioneer days, Estero was a major fruit producing area in Southwest Florida.  Homesteaders historically farmed citrus along the Estero River. He then used the river to ship his harvests north via the Gulf of Mexico. Most likely took the path through the Back Bay. Search current Estero Real Estate.
Our most famous or infamous pioneer was Cyrus Teed, leader of the Koreshan Unity.  This cult believed the universe existed within a giant hollow sphere.  He and some of his followers began settling in a community along the Estero River in 1894.  Gustave Damkohler joined the group and donated his 320 acres of land to the Unity.
The Koreshans were able to incorporate 110 square miles into the Town of Estero in 1904.  The municipality stretched from a mile north of today's Gladiolus Drive in south Fort Myers to a mile north of Bonita Beach Road in Bonita Springs and included all of today's Lovers Key State Park and the Town of Fort Myers Beach.  The community of Estero was later abolished in 1907.
During this time, the cult opened a post office, store, sawmill and black smith shop. They established schools for all those who wanted to attend They also built an Art Hall for their symphony orchestra and theater group.  Koreshans brought in exotic vegetation from throughout the world. They then planted on their grounds.  Eleven remaining historic structures are still being maintained at the Sects Koreshan State Historic Site.  The Koreshans did not believe in sex and the population gradually diminished.
Rising more than 30 feet above the water, miles from shore, ancient shell mounds change the landscape of Estero Bay quickly. Made of bones, shells and pottery pieces.
These mounds are believed to have been the ceremonial center of the Calusa Indians.  Access to the site is by boat or charter only, but the trip is well worth it.
Search Estero Real Estate MLS listings for dream homes or condos Now!
We will be happy to assist you with your purchase. This also means we will work to get you the Best the best price on your new home or condominium!  Search Estero Real Estate.