Lexington Country Club Listings $400,000 to $500,000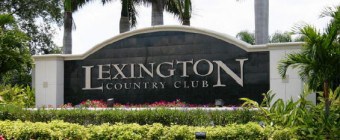 Explore Lexington Country Club Listings Priced Between $400,000 and $500,000

When it comes to finding your dream home in the beautiful Lexington Country Club Community, your search just got easier. Discover a wide range of exquisite homes and condos in the coveted $400,000 to $500,000 price range. With its pristine golf courses and resort-style pools, this community offers an exceptional quality of life that's simply unparalleled.

Picture yourself basking in the Florida sun and enjoying the Gulf waters, right at your doorstep. These Lexington Country Club Homes and Condos combine the luxury of a country club atmosphere with the serenity of coastal living, all within your budget.

Stay ahead in your search with updated Fort Myers, Florida MLS and real estate listings, providing you with the most accurate and current information. Whether you're in the market for a cozy condo or a spacious home, Lexington Country Club has the perfect property to suit your unique needs.
Search Lexington Country Club Homes 400k - 500k

Sorry we are experiencing system issues. Please try again.


Search Lexington Country Club listings by price range:

Back to Lexington Country Club

Conveniently situated just a short distance from Fort Myers Beach and Sanibel Island, Lexington Country Club offers the perfect blend of tranquility and accessibility. With Shellstar Realty by your side, you can take advantage of our experienced Realtors who have several years of expertise in the local real estate market. They'll work diligently to ensure you secure the best possible deal on your dream home or condo in Lexington Country Club.

To learn more about the Lexington Country Club community or to start your search, don't hesitate to Contact Shellstar Realty. Your ideal Florida home is waiting for you in the heart of Fort Myers, FL 33908. Make the dream of Lexington Country Club living a reality today.

If you need more information about Lexington Country Club homes and condos, feel free to Contact Shellstar Realty. Our Realtors Have several years experience and can help you obtain the best price on your real estate purchase!
Lexington Country Club is located in Fort Myers Fl 33908.
Lexington Country Club updated MLS - 400000-500000 price range