Fort Myers Area Gated Communities MLS Search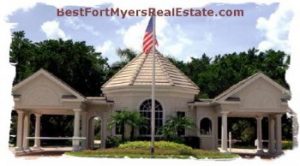 Homes for sale in Fort Myers gated communities and the surrounding areas offer many amenities to choose from.  The Baby Boomers are moving down and purchasing homes and condos. Many communities offer Golf courses,  gulf access and marina for your boat or yacht.  Green common areas abound.  Many neighborhoods offer lake or preserve views for you to enjoy. The vast majority of these gated neighborhoods are located in South Fort Myers and through the highway 41 and I 75 area.
Almost everything within the neighborhoods is constant except the prices. The amenities, the location, the housing types and styles all remain the same. The gate can have a security guard 24 hours or only during certain hours. In others you have a bar code on your car window, or a security card to get in.  Since these planned communities typically provide shared amenities like pools, exercise rooms and clubhouses, it's easier to meet your neighbors on a daily basis than you would in a standard subdivision. Scrupulous design regulations enforced by neighborhood associations also provide a beautiful uniform look to streetscapes.
Choose the Ideal Community in Fort Myers that fits your particular needs.  
Below we have compiled an extensive list of Gated Communities for you to explore. Most are gated communities.  You may click on the  links to view real estate for sale within them.  Homes and Condos abound!  There are also highlights of amenities available within the communities.  Go through the Fort Myers list and find the style of living that fits your requirements. Many of the communities have har-tru tennis courts.
You can also search Fort Myers Golf Communities. Or you may want to take a look at Estero Gated Communities
If you have questions, or need assistance feel free to Contact Shellstar Realty. Our Realtors Have several years experience and can help you obtain the best price on your real estate purchase!
Search for your Greater Ft Myers dream community by price range and Name.
Click this Link view >   Additional Communities
MLS Listings for Sale by Price Range
| | | |
| --- | --- | --- |
| Under $200,000 | $200,000 – $300,000 |   $300,000 –  $400,000 |
|  $400,000 – $500,000 | $500,000 – $700,000 |    $700,000 Plus |
On the internet, it can be difficult to evaluate something like the neighborhood for your next home.
Have you ever been disappointed with a real estate listing description and pictures you viewed online?  In an effort to help you evaluate these potential neighborhoods, we've put together a series of informational articles that detail gated communities in Southwest Florida. Here you will find information on the amenities, homes, price ranges, and up to date MLS listings.  Above all gated communities have many advantages. Since these gated communities typically provide amenities like pools, exercise rooms and clubhouses that are shared. It may be easier to meet your neighbors on a regular basis than you would in a standard neighborhood.  Strict design regulations enforced by neighborhood associations also provide a beautiful look to streetscapes
As a REALTOR®,  we do our best to answer all  your questions. Lets look at the Gated neighborhoods in Fort Myers, Florida. (We try to have them in Alpha order.)
Gated Communities in Fort Myers Florida
Gates, along with fences, private security forces, "residents only" restrictions on communal parks, policies to control the homeless, land use policies, large-lot zoning, and other planning tools. These are part of a trend throughout the country to restrict or limit access to  commercial, residential, and communal areas. These turf wars, representing a retreat from the public realm, are a troubling trend. These special neighborhoods are a dramatic manifestation of the fortress mentality growing in America.  Estero Gated Communities are growing rapidly. The context for the gated community trend is an America is increasingly separated by income, race, and economic opportunity, although people with a range of backgrounds live in gated communities. You may also check out Bonita Springs Gated Communities.

In Fortress America: Gated Communities in the United States, we classify gated communities into three major categories. First are the style of life communities, where the gates provide security and separation for the leisure activities within. These include retirement communities and golf and country club leisure developments. Second are the Prestige communities, which lack the amenities of the Lifestyle communities, but where the gates still are valued as markers of distinction and status. The Lifestyle and Upscale  communities are developer-built, and primarily suburban. They range from the enclaves of the rich and famous to the subdivisions of the working class.

Find Your Southwest Florida Dream Home or Condo now!

More importantly, we make it easy to find your  Homes, Condos and other real estate.  Over eight million Citizens have sought refuge from criminality  and other problems of urbanization by installing gates and fences to limit access to their neighborhoods – and their numbers are growing. Fort Myers Gated Communities are no exception. Since the mid 80s, gates have become ubiquitous in many areas of the country. New cities are routinely built with gated villages, and some entire incorporated cities feature guarded entrances. Along with the trend toward gating in new residential developments, existing neighborhoods are increasingly installing barricades and gates to seal themselves off. These beautiful neighborhoods physically restrict access so that normally public spaces are privatized. They differ from apartment buildings with guards or doormen, which exclude public access to the private space of lobbies and hallways. Instead, gated communities exclude people from traditionally public areas like sidewalks and streets. Gates – along with fences, private crime prevention forces, "residents only" restrictions on public recreation areas, policies to control the homeless, land use policies, large-lot zoning, and other planning tools – are part of a trend throughout the country to restrict or limit access to residential, commercial, and public areas. These turf wars, representing a retreat from the public realm, are a troubling trend. Gated communities are a dramatic manifestation of the fortress mentality growing in America. My wife and I have lived in three of the gated communities on A & W Bulb.  This street runs between McGregor and Gladiolus.  I would be happy to answer any question you may have in regards to living in this South Fort Myers Area.

Gated communities remain very popular. According to the U.S. Census Bureau's American Housing Survey, 11 million households lived in gated communities in 2009, up from more than 7 million in 2001.  Below The Edison's settle in our Neighborhood.

The Lee County School District encompasses many campuses.  Selecting a school for your child is a very important decision. In Lee County, the school system of one neighborhood, one school, has been replaced with an open-enrollment system. What had become an annual ritual of redrawing school boundaries, moving children involuntarily from one school to another, to accommodate  the exciting growth in Fort Myers and surrounding areas,  has been replaced and now parents rank a number of schools close to where they live.

Once a student is enrolled in a school, parents have the assurance the student will remain at the school through the highest grade level offered.  This of course is true unless one of the following occurs:

The student is determined in need of a very special education program, and it is not available at the chosen school
or the student relocates into a different zone or sub-zone where the assigned school is no longer an option.

Find your new Condo or Home in one of  Fort Myers Neighborhoods